Tanzania Student Blogs: Summer 2017
The Funguka! Interns Blog
by John Marshall, Akaravuit Pancharoen, and Poonam Ravindranath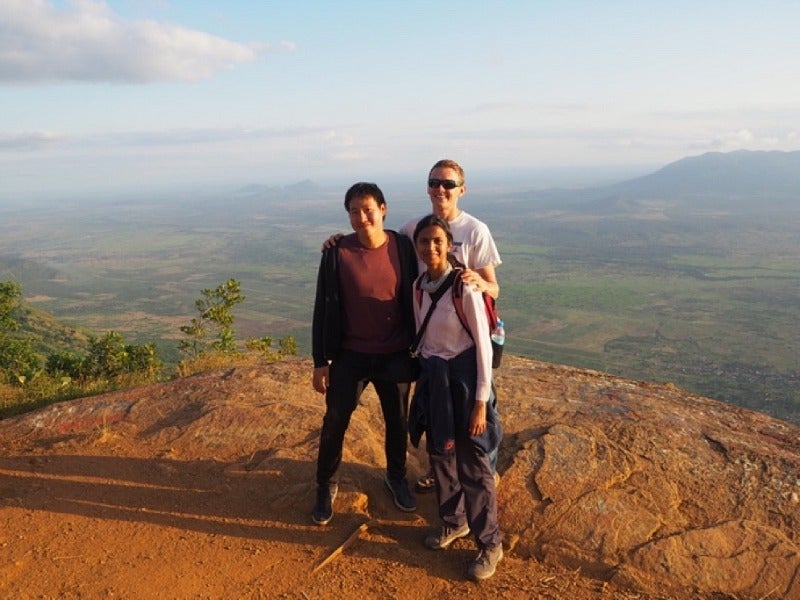 From the moment we landed in Dar es Salaam, we were awestruck by Tanzania's beautiful landscape and its incredibly kind and welcoming people. Our first-hand experience of working on the Funguka! project, traveling to the field and working with staff members only reinforced our love for this country.
We arrived here at an ideal stage of the project: preparing for the RCT's second phase of enrollment. We spent hours testing the survey, preparing training materials and finally conducting the training for the enumerators. Guided by our Project Manager, Brian, our first few weeks of work were stimulating and we soon gained confidence working with Survey CTO and other statistical software. Working with the enumerators and team supervisors, all of whom hailed from Dar es Salaam and other parts of the country, was especially rewarding. These were some of the friendliest people we had met and they immediately welcomed us and made us feel as part of the team. These were also the days where our Swahili vocabulary expanded from nothing to "Habari yako" and "Kiasi gani"!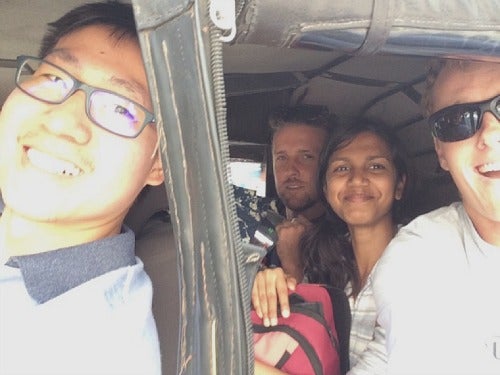 When the enumerators went out to Ubungo, Dar's main bus terminal, as well as the several other terminals in the city, we turned our attention to preparing an enrollment monitoring system and devising a new lottery for the second phase of enrollment. We needed to be able to see our data as it came in, check for potential biases and issues mid-collection, and collaborate with field supervisors to correct any issues before they became a problem. We spent days pouring over this, discussing the pros and cons of different algorithms, and learning new syntax to implement our ideas.
Throughout our time in Dar, we did our best to immerse ourselves in the local culture. We enjoyed traveling around the city by the "Bajaji", eating local food, and exploring different parts of the city. We woke up each morning with the call to prayer, arrived home to the singing from the local churches, and explored the numerous temples in Dar. Not only did we experience Tanzanian culture, but also learnt a lot from each other; Hailing from India, Thailand, and the United States, we enjoyed trying each other's cooking and chatting about our home countries.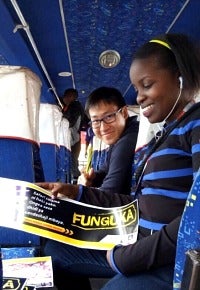 Our idea of life in Tanzania and East African culture, however, was vastly expanded when we got the opportunity to join the enrollment teams out in the field for a week. The three of us split up, each traveling to a different region on the far side of the country- to Mbeya in the Southern Highlands, Mwanza on the coast of Lake Victoria, and Arusha, the home of Mt. Kilimanjaro and the beautiful Ngorongoro crater, in the north. We joined the teams in Dar before sunrise to embark on fifteen-hour long bus journeys to our respective destinations. Not only did we get to see the beautiful countryside of Tanzania, but also had plenty of time to chat with the enumerators about everything from music to Swahili to everyday life. We spent the week waking up at 4:30 in the morning to enroll busses before they left for their destinations. In fact, one of the highlights of our summer in Tanzania, was the incredible experience of traveling across the country. From swimming in the clear water beaches of Zanzibar and Lake Nyassa, to hiking in the lush green Usambara mountains in the north, we had an amazing time crisscrossing this beautiful country in search of adventure.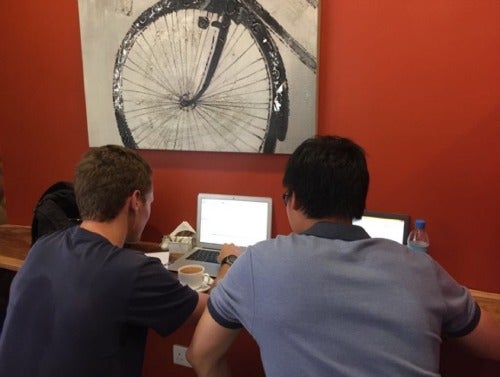 Once we got back to Dar, we soon started working on cleaning and summarizing the data for analysis. We weren't completely confined to office work either, as we continued to collaborate with the field leaders to keep them stocked with new stickers, and visited Tanzanian Traffic Police and Ministry of Works officials to discuss accident data collection.
All in all, not only did we have a fabulous time, but we took away many valuable lessons. We began to appreciate how little changes and incentives, if carefully thought out, can have a big impact on people's lives. Our hands-on experience working at bus terminals, gave us a new perspective on the implementation challenges of a project like Funguka! How easy was it to see the stickers? How should one approach a bus driver? How was the project perceived by everyday Tanzanians? By getting our hands dirty, we gained an understanding of issues that data alone couldn't explain. Since our work was primarily quantitative, we also developed an intuition to anticipate problems on the field and find solutions. Overall, our work here was intellectually rigorous, challenging, yet rewarding, all the while giving us a wonderful opportunity to travel and meet new people. This was truly a dream internship!