Beatrice Leydier – Uganda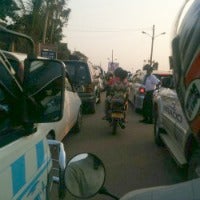 Kampala,
I've sacrificed three pairs of shoes to your dusty roads and muddy streets, but this is merely the visible side of the mark you imprinted on me. The permanent burgeoning of Boda Bodas whose solicitations beat the seconds better than a Rolex (which is not exactly a watch where we don't need watches, because we have time – but is arguably way cheaper, and tastier than the Swiss homonym) only equals the excitement it represents to let one's hair freely float and embrace the infinite abilities of the driver, making its way through taxis, cars, holes, rain, dust, mud, bumps, and ruts. They say your Bodas are reckless, I say they are resourceful in your crazy traffic.
Traffic takes me to Uber – because indeed you adopted technology more than African clichés would let us believe; and sceptics should try to pay for electricity with their mobile phone in the rest of the world. In a city where addresses barely exist and google maps is not exactly a thing, ordering Uber is quite an experience, in which nothing replaces endless calls to describe one's location, more often than not with the help of locals.
Locals are your blood, your soul, your energy. How many times didn't I have to worry about getting lost, because someone offered to walk me somewhere; how many smiles greeted me to the sounds, "You're Welcome!"; and how many of my requests have been positively met with an enthusiastic "Yes, please". Helpful, smiling, genuine and outgoing, most of the ones I've met are as generous as your soil.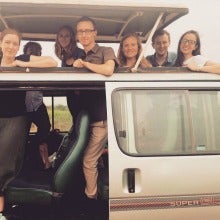 Your soil is plenty, they say – didn't Churchill nickname your land the Pearl of Africa? From matooke to gonja, it grows varieties of bananas defying Mzungu's imagination (and palate too, let's be honest). Your food diversity reflects the importance of your Asian immigration which hasn't always been welcome; but today who would not expect to find Indian, Chinese, and Thai food in every restaurant – be it Ugandan, Italian, or American.
American break of a couple of months, this summer gave me only a quick glimpse into your world, but it was an eye-opening, comfort-challenging, reflection-generating and stress-relieving experience. Despite your permanent mess, a summer blessed with your healthy food and delightful weather was a salutary break from DC's crazy rhythm and policy blinders.
Kampala, thank you.
Prospective gui2de intern: an experience with gui2de is a deep dive into development work with its promises, and its many frustrations. Working hours will teach you flexibility – and patience – while working space, relativity – who needs wifi, after all? Some things will irritate you, but I can only encourage you to embrace them, attempt to understand them, and aim at accepting them – even if you disagree with them. You can't avoid the frustration, and you shouldn't ignore it. Processing it with modesty, accepting the limits of your understanding, and enhancing your comprehension of development work – changing your use of the word 'impact', your praise of charity or your preconceived ideas on Africa's "problems" – will probably be a tough, but hopefully rewarding achievement. A bit like finishing an entire plate of matooke when you don't have enough sauce. Good luck, my friend.