Adam Taube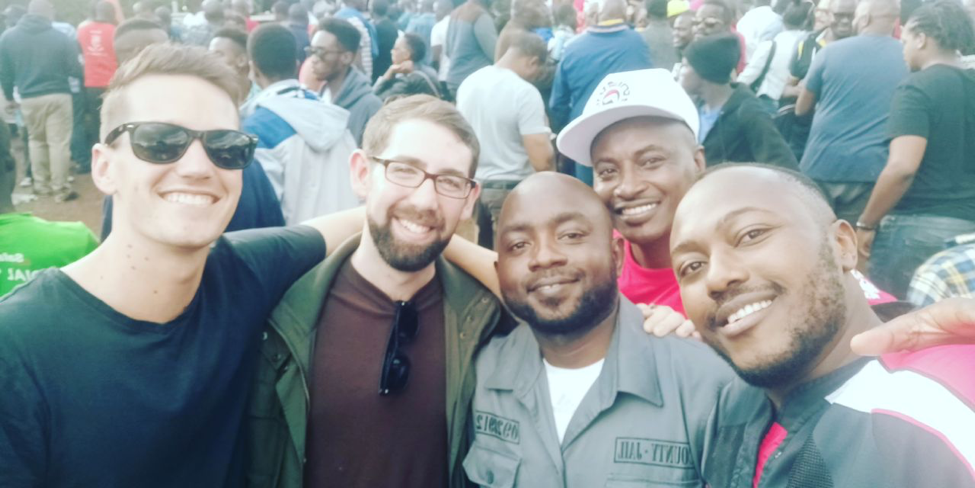 My time working with gui2de in Kenya was a well-rounded experience and offered me many opportunities to get involved with the Digital Financial Inclusion project portfolio. I attended meetings with project partners in Nairobi, interviewed enumerators for a baseline survey, and assisted with the design of high-frequency checks to review incoming data. But actually, it was the combination of office work with the day-to-day of living in Kenya that taught me what to expect as I embark on a career in international development economics.
The average work day in Nairobi begins with the walk to the office through the crowded streets of the Westlands neighborhood. Along the way, I pass fellow commuters and dodge boda-bodas (motorcycles), while watching my step on rough footpaths and futilely attempted to avoid breathing the dark smog bellowed from passing matatus (minibusses). On occasion, I stop at a street vendor to pick up a fresh hard-boiled egg, topped with salt and a mix of diced tomatoes, red onions, and chili peppers. We have a short conversation exchanging greetings, and I continue my walk to work.
At the office, I assist with a project workflow that varies greatly from week to week. A given week might include programming a survey, STATA dataset cleaning, meetings with partners, and report preparation with data visualization. The other interns and I work together on these tasks, delegating toward our strengths or areas we'd like to train. At the end of the day, we return to the shared apartment and either cook dinner or go out to one of Nairobi's amazing restaurants for an unforgettable meal. I was able to try many Kenyan dishes and proudly completed the checklist of foods to try that I was given at the start of the internship. After 8 weeks of traveling and working around Kenya, both in the office and out doing fieldwork, I have gained a strong understanding of the daily duties of a policy evaluation team conducting research. I'm eager to revisit Kenya and find more opportunities to assist in fieldwork.